chasingXshallowXdreams
Real name:
laura
Member Since:
08/26/2005
Last Login:
Unavailable
Skin:
Revival
[name]
laura
[age]
17
[home]
the states
[hobbies]
making graphics, reading and writing in general, listening to music, etc.
[obsessions]
prison break, lost, making graphics, writing, and my iPod
[favorite music]
alternative mostly. my chemical romance. good charlotte. 30 seconds to mars. fall out boy. cartel. you know the drill. also relient k. jack's mannequin. john mayer. xtina. the hush sound. etc, etc.
currently, i'm not really writing fan fiction. i just have a big bunch of stories that i never got around to posting.
i still love getting reviews.
currently posting
Haunted III: Kidnapped (Horror/Suspense)



finished stories
"Haunted" (Horror/Suspence)





"Loved and Lost" (Joel/OFC)






"Only Got 100 Years to Live" (Joel/OFC- Song Fiction)






"Haunted II: Back Again" (Horror/Suspence)





"Photographs" (Person Centric > Joel)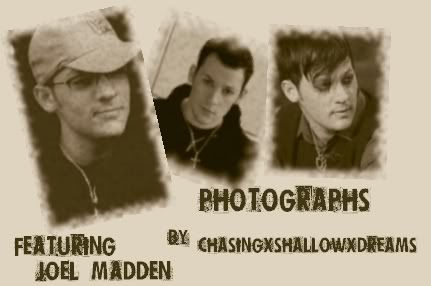 works in progress
"When In Rome" (Benji/OFC-Historical Fictional/Alternative Universe)

"Are You An Angel?" (Benji/OFC)





"There's Just Something About Her" (Paul/OFC)




"Why Don't You Just Drop Dead?" (Benji/Joel/OFC)




"All Our Sins are Simple" (Alternative Universe)

"Naked" (Billy/OFC)





"Because of You" (Joel/OFC)





"Love Is All They've Got" (Joel/OFC)





"Ever After" (Benji/OFC)



---