MADEchick
Real name:
Clarissa
Member Since:
08/03/2005
Last Login:
Unavailable
Skin:
Revival
PERSONAL INFORMATION
Name:Clarrissa Lydia McPhedran
Age:15
Location: Mississauga, Ontario, Canada
A LITTLE ABOUT ME
I am 15 and love to skateboard. I have a boyfriend names Kristian. I have a band called Lost in Confusion with my friends Matt, Brad, Bryce and Jade. I am lead guitar and backing vocals. Right now were just playing little gigs in coffe shops. My grades are ok, good enough not to fail.
FAVOURITES
Food: Pizza, Pasta and anything vegitarian
Bands: Good Charlotte, Blink 182, Marilyn Manson, Disturbed, Simple Plan, Hedley, The Bravery, Nirvana, The Ramones, AC/DC, Ozzy Osbourne, The Sex Pistols, Seether, Godsmack
Random stuff: I love to write, its always been one of my strengths, i love Pink Is The New Blog, Trent rocks!! and all that shit.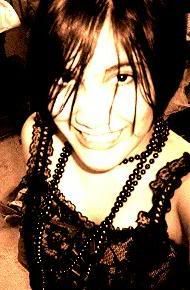 ---
---
Lydia, a normal girl, it would seem. If it wasn't for that one day in grade five, she would be. No 16, a hard age in life, Lydia has lost all hope. But what happens when a project is sent out in English. A project to be sent to the United States. A project sent to a place not many people have heard of..... Genres: Drama and Romance Warnings: Abuse, Language, Violence, Self Harm and Graphic sex in later chapters

Published:

10/21/2005 -

Updated:

12/13/2005

After so many years, Good Charlotte has retired. They all have families and this is just a bit abou them.

Categories:

Het Pairings

Characters:

None

Genres:

None

Story Type:

None

Warnings:

None

Series:

None

Published:

11/29/2005 -

Updated:

11/29/2005