babybluechic
Real name:
Brittany
Member Since:
02/01/2005
Last Login:
Unavailable
Skin:
Revival
I'm 17 and a senior in high school. I love many bands, obviously Good Charlotte is one of them.
I enjoy writing fanfics as well as reading them. I LOVE receiving reviews from peeps. (hint, hint lol) and um...there's not much else to say about me right now.
I'll update this some more later!
Now i'm off to try to find all the stories that i was reading on this site. lol. this is going to take a while.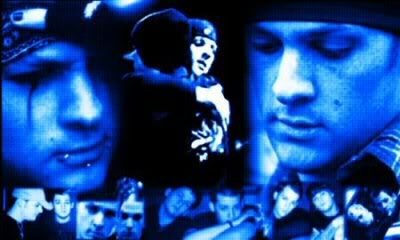 Please don't steal that ^^ i made it a while back, but yeah...thanks! :)
---
---
Reviews by babybluechic
Jaden came to D.C. for her cousin's wedding. She wasn't planning to fall in love. Joel just got off a two-year relationship and can't seem to get over his ex-girlfriend. Here is their story.

Published:

01/17/2005 -

Updated:

08/17/2006









Benji and Emily were best friends, and eventually more, since they were kids going to Sunday School. But when they turn 20 and Benji leaves to go start things up with Good Charlotte, they lose touch. What will happen when he comes back and realizes that she has been keeping him from his own daughter?

Published:

01/17/2005 -

Updated:

02/19/2005





Dog-sitter falls in love with employer Benji, only there's one problem... he's already taken.

Published:

01/18/2005 -

Updated:

02/23/2005



Author's Response: I'm flattered, thank you :).





The story of Benji and Mere. Their relationship and it's many ups and downs...

Published:

01/18/2005 -

Updated:

05/24/2005



Author's Response: Thanks for reading! One of your favorites? THat's a major accomplishment! ;)







Author's Response: Thank you!





Running from a painful past is a theme in 24-year-old Kacey Madison's life that she knows better than she should. In an attempt to escape an abusive lover, filled with fear and desperation, she's running once again. This time the only people she can turn to are the friends she left behind in Waldorf, where the running all began. She thinks she's found safety until she unwillingly comes tumbling back into the middle of Benji Madden's life, causing forgotten feelings to resurface as they fight the nightmares of her past. Still, their love is proven once again to be riddled in heartache when they're forced to uncover secrets that threaten to tear them apart forever. Through all the madness can Kacey confront her past and can Benji win her trust? They never knew what their love would cost and there's nothing like a psychotic ex-boyfriend trying to ruin all the fun.

Published:

02/08/2005 -

Updated:

04/10/2013



Author's Response: It takes a long time to repost 33 chapters, but I'm trying to get them all back up as quickly as I can.







Author's Response: I know, I suck. I'm such a lazy ass.





Can a person have everything and still feel as though something is missing? If you are Benji Madden, the answer is yes. Ever since his twin brother Joel came into his own and stopped depending upon him the way he used to, Benji feels lost. For the most part he is happy, but there is still something missing. Will he ever be able to figure it out, without losing everything that he has?

Published:

02/13/2005 -

Updated:

02/13/2005

wow! good stuff! i'm loving this story so far hun!! i cant wait to find out what happens! update sooooooooooooon! mwah! i love you!

Author's Response: hehe I will be updating this story after dinner. right now I'm getting ready to post the other story I started working on. hopefully I'll come up with a good title for it lol ttyl chica love ya! mwah!





Benji and Kristine are in a rather serious relationship. Kristine is in the beginning stages of pregnancy, but how will Benji react when she tells him he may not be the father?...Joel meets up with an old flame from his own one-night-stand that he had last year when he and the rest of GC are at the Radio Music Awards. How will Kristine and Brittany react when their worlds collide? Only time will tell as they learn that they aren't too different from each other. (I know the warning says Graphic Sex, but that won't come until a few more chapters from now. When those chapters come along I'll raise the rating as well. Sorry if the summary sucked. Hope you enjoy this story though!)

Published:

02/13/2005 -

Updated:

02/13/2005

woohoo!! you sooo did not tell me on AIM that you posted the 2nd chapter too! gah! i love it! are you going to write and post more tonight for me? *bats eyes* i love you....i will work on Colors Fade To Black for you........my sexy Mel. mwahaha. wooo.....5 more months and i can see you again! woot woot! i like the little twist that you threw in! it's awesome! hehe! now i wanna know where this story is going! mwah! love you hun! update soon!





Categories:

Orphan

Characters:

None

Genres:

None

Story Type:

None

Warnings:

None

Series:

None

Published:

12/31/1969 -

Updated:

12/31/1969